When I was 23 years old and helping to build the foundation for Xteamartists, I had a few concerns that occupied my mind. The first concern was for my sanity as I allowed myself an array of supposedly impossible goals. Next to that, the largest concern was finding others who shared those same impossible goals and an unyeilding drive for perfection.
After graduating from college in 2009, my friend Daniel Thomas Phipps returned to his hometown of New Braunfels. Daniel made spending cash at college by playing gigs at local bars and around Dallas. Once back home again, he started playing shows with local artists. It wasn't long before he was tossing names my way. Names like K Phillips, Stephanie Briggs, Luke Leverett, and Michael Christmas.
I asked him if these guys were any good. His response, like most of what he has to say, was uncomplicated and understated.
Yup.
Fast-forward to 2011, and I have met each of those names and can agree on their talents. I have caught a few shows over the past year and followed some under-the-radar releases. But one of those names kept jumping out — Stephanie. I had played through her most recent album at the time, Birds Barely Know Us. I listened on headphones, in the car, on iPod speakers, and her voice shined through soft and strong, pulling me into her world. For her, indepentently-produced folk-pop wasn't stifling, it was refreshingly liberating. And she accordingly liberated her music from the stifling confines of independent production. Wow.
Here I had found someone who — like me, like Daniel, like Xteamartists — set impossible goals and transcended her limitations to reach them. So those who know her should not be surprised by her recent decision to put aside some personal limitations and reinvent herself. On 5 March, she debuted her new album Wound & Will under the name Little Brave, and with it her liberation became musical emancipation.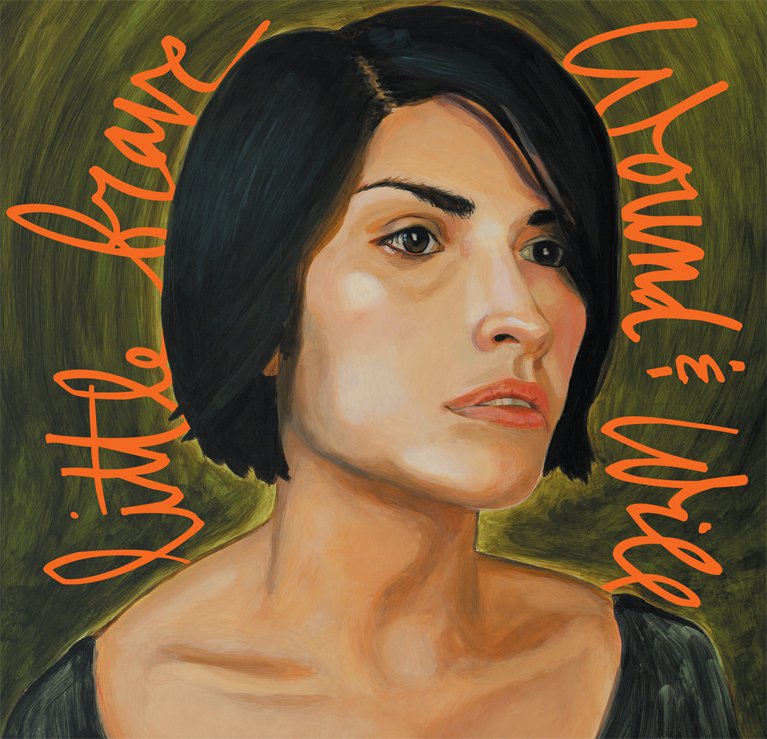 A week before the album launch, I had the pleasure of meeting Stephanie at the Moon Bar in Fort Worth. Kevin and I drove down from Dallas with a couple of cameras on hand to shoot some footage while they were in town. She had arrived with Daniel, K Phillips, Luke, and Michael earlier in the evening to set up for a long gig they would be playing together and in rotation. When I found her, she was relaxing at a table near the bar, facing the stage. I have met a number of musicians and find many of them bitter towards any outside collaboration. I understand. Like so many artists, it is a bitterness formed from false promises, fleeting friends, and unappreciated struggle.
I had prepared myself for the same attitude when I sat at the table. I ordered a drink and introduced myself. After the pleasantries, I asked her over a Shiner what we might do to help, how close she minded a camera at the stage, and so forth. She took a drink and smiled.
Oh, it's whatever you need. Just glad you guys came out.
This comfortable readiness is felt in her new album, Wound & Will, conceived in a rough year for the singer–songwriter. She recently opened up about her struggle in an interview for the San Antonio Current, so I don't mind printing a few facts here. Stephanie endured a painful divorce last year. With the passion characteristic of so many artists, she subsequently found herself in a turbulent relationship. Chaotic. Tumultuous. And ended by a text message. Wounded and depressed, she could not gather the will to work, and the music ceased.
Stephanie is a strong woman and a hell of a fighter. After a brief respite, she had enough, and from reflection came an outpouring of soulful honesty. She has been in pain. Like most of us, it is not conquered but tempered. She has infused her music with this and the energy and confidence drawn from it. We hear it when she sings, and it fills us with the same alacrity. We see when she walks onstage. We feel it when she smiles and carries herself with a candid vibrancy. Stephanie is one of the few who, when she jumps in, won't make a splash — she'll make waves.
Her album Wound & Will is available now, or you can find her on iTunes. She staged a musical for her release party on 5 March that kept people raving. Her music will even be featured in the motion picture Videotape.
Oh, and did I mention? She is also quite the illustrator.
Singer, songwriter, painter, photographer, XTA affiliate, and lover of life.
This is the new Stephanie Briggs. This is Little Brave. «»